Posted by DDI Store on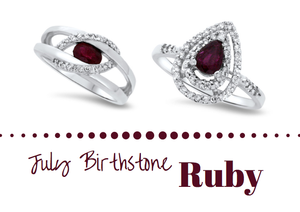 In Need of Harmony, Balance and Happiness in your Life? Try a ruby on for size! July Birthstone is the RUBY. This gem has been a very popular gemstone for over 2000 years! The ruby is one of four stones that are included in the "Precious Gems" category along with Sapphire, Emerald, and Diamond. The rarest color of ruby is called pigeon's blood which is a fiery shade of red, with a subtle hint of blue or purple. These rubies are more valuable than others because of their brilliance and transparency. Some fun Folklore of RUBIES Rubies are a...
Posted by Amy Thiessen on
As George Eliot has declared, 'These gems have life in them – their colors speak, say what words fail of' From time to time they have been discovered form all around the world, gemstones have enthralled millions of people, from their captivating and unique color, as well as matt-finished and sparkling brilliance. Although it was almost certain that gemstones would eventually find their way in the market place of jewelry, some people might even be fanatically enthusiastic of owning a precious stone. A precious stone, which is not only known for its color, but also holds certain significance in jewelry...